Holiday Season Good Time to Discuss Estate Planning with Loved Ones
Your parents are getting older and you may be wondering if they have a plan in place just in case something awful suddenly occurs. However, it is difficult to have that conversation since it is an uncomfortable subject to talk about and you may not be in close proximity to your loved ones. The holiday season provides the perfect opportunity to have that conversation with your loved ones since everyone is together and can participate.
It may not be the most "holly jolly" subject, but it needs to be done. Being proactive and getting your family on the same page will save all of you stress and chaos in the future. A lot of hurt feelings can be avoided if people know and understand what the plan is ahead of time.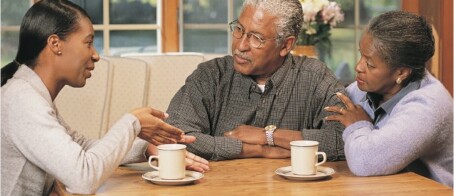 Below are some important tips that can help you and your loved ones make the conversation as productive and effective for all involved:
1) Gently Approach the Topic
Most people do not want to contemplate their death or suddenly becoming incapacitated and unable to make decisions. This is why you need to ease into the conversation with your loved ones. Express your concerns, which could be medical, financial, and the cost of care.  Frame the conversation around your love and appreciation for everything your parents have done for you and your genuine interest that their affairs are in order and a plan is in place.
2) Ask Questions
Rather than declaring that your parents need an estate plan and you need to know every detail, ask open-ended questions. This is important because your parents may have already done planning on their own that you did not know about. If you parents have estate planning documents in place, ask them when the last time they had them updated was. to review them. It is possible they may need to be updated. Also, ask if they feel comfortable with their plan and understand how it works. Often times, people may setup an estate plan and not understand what they need to do to maintain it. For example, they may have setup a trust, but not actually transferred any of their assets to it leaving unintended consequences for their beneficiaries.
3) Begin a Dialogue
Do not initiate the conversation hoping to resolve every issue and have every question answered. Maybe you just need to light the spark and get your parents thinking about their estate. Remember, nothing needs to be decided right away. Beginning the dialogue is key.
4) Topics You Need to Cover
A few topics that should be covered during the conversation include:
Do you have a financial power of attorney to use in case of an emergency or disability situation?
Do you have a current medical directive that nominates someone to act on your behalf? And, does that person know what your wishes are?
Are all your beneficiaries updated on any retirement accounts, life insurance policies, etc.?
Is it spelled out how you would like your assets and heirlooms to be divided if something happens to you?
Do you have a list of assets anywhere and key people to contact should anything happen to you?
5) Meet with an Experienced Estate Planning Attorney
If your parents acknowledge the importance of having a plan in place, but have not yet drafted important legal documents (or, they did 10 years ago and need an update), contact an experienced estate planning attorney in your area. The attorney should have knowledge of asset protection, legacy planning, and elder law, to help plan, and protect your parent's estate for now and for the future.
At InSight Law, we take this a step further. Each year around Thanksgiving we hold a meeting for our clients and their "helpers" to help facilitate this conversation. We believe in educating a family ahead of time to avoid any complications during a stressful time of disability or death. Legal documents are great, but a good conversation with your loved ones goes even further.
For more information about estate planning tips and strategies, check out this blog about so-called "simple" wills.